0 likes
0 seen
03/12/2022 updated
03/12/2022 uploaded
Details
Number
Member Only / 150
VIN
Gold Member Only
Chassis
Member Only
Model Year
--
Plate
Member Only
Color
Blue
Interior
Nero Leather
Original Market Specification
--
Transmission
--
Drive
LHD
Last known km/miles
--
MSRP
--
Status
Restored
Owner Name
Gold Member Only
Collection
--
Datasource
Yosh1No
Sale Link
--
Location History

New York, New York, United States InfoExported to USA in 2005, buyer and location unknown.

Cape Town, Western Cape, South Africa InfoBought by another ZImbabwean, Paul Jaffa, in 1970, car was later in South Africa, repainted into orange but finally restored to the original spec.

Bulawayo, Bulawayo Province, Zimbabwe InfoArrived to Zimbabwe in the same year, owner was Bob Bardolia.

Milan, Lombardy, Italy InfoDelivered via Motor SpA in 1969.
Gallery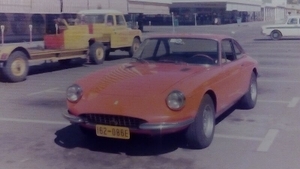 Credit: Paul Leonard Jaffa
Uploaded by

I love old Ferraris mainly because I don't have knowledge about new one.
Submit an edit
Not Signed In You need to be signed in to submit an edit. Log in or sign up
Similar Cars