0 likes
0 seen
23/01/2023 updated
04/12/2022 uploaded
Details
Number
Member Only / 73
VIN
Gold Member Only
Chassis
Member Only
Model Year
--
Plate
Member Only
Color
Rosso
Interior
Unknown
Original Market Specification
--
Transmission
--
Drive
LHD
Last known km/miles
--
MSRP
--
Status
Totaled
Owner Name
Gold Member Only
Collection
--
Datasource
Yosh1No
Sale Link
--
Information
In June 2010, the four brothers and sisters of Dubbini family (Dubbini Brothers), the entrepreneurs in the coffee business in Padova, and also owned a prestigious Ferrari collection, were denunciated by Luca Cordero di Montezemolo, President of Ferrari S.p.A. and have been arrested due to the Local Police in Padova. Ferrari accused that Dubbini family recreated several prestigious Ferrari racing cars based on Ferrari chassises around thousand euros with the help of an experienced mechanic of Padova, and then sold them in order to earn million euro's profit. The 1999GT nowadays in the world, owned by Dubbini Brothers since 1980 with PD-753199 number plate, has been provided to be one of the recreation car.
Location History

Le Mans, Pays de la Loire, France InfoCompleted destroyed before the start of the 1960 Tour de France.

Turin, Piedmont, Italy InfoDelivered to Carlo Maria Abate in 1960, racing for Scuderia Serenissima.
Racing History
15/09/1960 Tour de France

Le Mans, Pays de la Loire, France InfoDNS, destroyed.
04/09/1960 Coppa InterEuropa, Monza

Monza, Lombardy, Italy Info1st OA.
24/07/1960 Trieste-Opicina hillclimb

Trieste, Friuli-Venezia Giulia, Italy Infodnf
25/06/1960 24h Le Mans

Le Mans, Pays de la Loire, France Infoacc. in practice
Gallery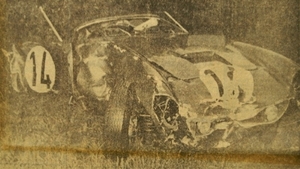 Uploaded by

I love old Ferraris mainly because I don't have knowledge about new one.
Submit an edit
Not Signed In You need to be signed in to submit an edit. Log in or sign up
Edit History
Similar Cars