3 likes
0 seen
09/03/2023 updated
09/03/2023 uploaded
Details
Number
Member Only / 929
VIN
Gold Member Only
Chassis
Member Only
Model Year
--
Plate
Member Only
Color
Oro Chiaro Metallizzato
Interior
Testa di Moro Leather
Original Market Specification
--
Transmission
--
Drive
LHD
Last known km/miles
--
MSRP
--
Status
Restored
Owner Name
Gold Member Only
Collection
--
Datasource
Yosh1No
Sale Link
--
Information
1 of 4 512 BBs in Oro Chiaro Metallizzato and the only one in this match.
Ferrari Classiche certified.
Location History

London, England, United Kingdom InfoSold at 2018 Sotheby's "The Midas Touch".

Essen, North Rhine-Westphalia, Germany InfoDisplayed at 2018 Techno Classica.

Modena, Emilia-Romagna, Italy InfoReturned to factory in 2015 in order to fulfill a restoration for its original specs, handling by Giuseppe Garuti and Carrozzeria Sport Cars for more than £100,000.

Turin, Piedmont, Italy InfoPrevious owner in Turin (1997-2018), car was in Rosso over Beige.

Milan, Lombardy, Italy InfoDelivered via Maranello Piemont S.r.l in 1977.
Gallery
Credit: @sothebys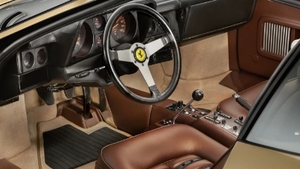 Credit: @sothebys
Uploaded by

I love old Ferraris mainly because I don't have knowledge about new one.
Submit an edit
Not Signed In You need to be signed in to submit an edit. Log in or sign up
Similar Cars