0 likes
0 seen
14/12/2022 updated
14/12/2022 uploaded
Details
Number
Member Only / 15
VIN
Gold Member Only
Chassis
Member Only
Model Year
--
Plate
Member Only
Color
Rosso Corsa
Interior
Rosso Leather
Original Market Specification
--
Transmission
--
Drive
LHD
Last known km/miles
--
MSRP
--
Status
Clean Title
Owner Name
Gold Member Only
Collection
--
Datasource
Yosh1No
Sale Link
--
Location History

Geneva, Geneva, Switzerland InfoSecond owner, owned it since 1970s.

Geneva, Geneva, Switzerland InfoDelivered to Scuderia Filipinetti in 1972.
Racing History
15/09/1972 Tour de France

Paris, Île-de-France, France InfoDNF, #119.
10/06/1972 24h Le Mans

Le Mans, Pays de la Loire, France Info7th OA, 3rd IC, #34.
Gallery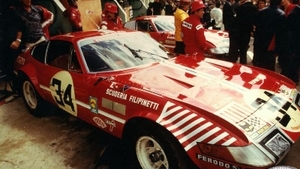 Credit: Pierre Ichtertz
Uploaded by

I love old Ferraris mainly because I don't have knowledge about new one.
Submit an edit
Not Signed In You need to be signed in to submit an edit. Log in or sign up
Similar Cars