1 likes
1 spotted
0 garage
24/03/2023 updated
27/02/2023 uploaded
Details
Plaque Number
Member Only / 351
VIN
Gold Member Only
Chassis
Member Only
Model Year
--
Plate
--
Color
Verde Pino
Interior
Nero Leather
Original Market Specification
--
Transmission
--
Drive
LHD
Last known km/miles
--
MSRP
--
Status
Repaired
Collection
--
Datasource
Yosh1No
Sale Link
--
Information
Rear-ended in 1972 and installed a slightly different rear-end.
Location History

Stuttgart, Baden-Württemberg, Germany InfoDisplayed at 2012 Salon Retro Classics.

Linden, Hessen, Germany InfoPrevious owner, Dr. Walter Leuthäusel.

Arbon, Thurgau, Switzerland InfoPrevious owner, Rudolf Zoellig (1988-2000).

Oberweningen, Zurich, Switzerland InfoFor sale via Peter Rau's Touring Garage in 1984.

Veytaux, Vaud, Switzerland InfoDelivered to Dominique Panissaud in 1964.
Gallery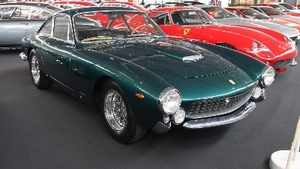 Credit: http://arthomobiles.fr/
Uploaded by

I love old Ferraris mainly because I don't have knowledge about new one.
Submit an edit
Not Signed In You need to be signed in to submit an edit. Log in or sign up
Similar Cars